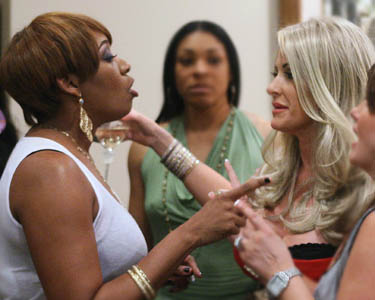 Scenario 1:
I'm in the gym working out and sweating my ass off. It doesn't mean a thing to me that I'm the only black female in the gym. I've been a member for a few months now and I like it. I'm quite comfortable there. I make an effort to smile or nod at everyone coming in even at my hardest resistance in those last few hard minutes. I never asked to be the welcoming committee I just do it, because I'm in a good mood and feeling polite. So along walks in two young black girls. About my age, about my height, and about my build. Lace front wigs blazing, false eyelashes fluttering, and long ass acrylics waving back and forth. Let's not even talk about why you would be in a gym with a wig on. As always I wave. They look at me, look at each other, and Give me a funny ass "who does she think she is?" look as if how dare I have the audacity to smile at them. Well damn.
This look describes how I felt perfectly!
I am almost thirty years old. Which means I have had a lot of time to deal with people. I learn something new about myself everyday, but I have people (for the most part) figured out. I am a people watcher. I generally size people up for months before I really, REALLY begin to let them in. I watch for lies, reactions, opinions. What they say about others, do they take the blame for their mistakes or is it always someone else's fault, are they hard working or are they petty. Do they show themselves respect, do they respect me, and do they hold up their end of the bargain. Are they one dimensional in their opinions and views or willing to look at a picture in it's entirety. This is not what I look at to determine a friend. It's merely what I look at to see if you're even worth being an associate. This doesn't apply with women. Me attempting to build a new friendship with a woman is a thing of the past.
Women are the nurturers of the earth. Emotional creatures that are known to be the most loving sex. But women can be some of the meanest, most trifling, cattiest, backstabbing, and jealous individuals on the planet.
See what I mean????
Scenario 2:
In high school I was apart of a clique. Not the mean girls type, but a crew of kids that were all raised in the same neighborhoods, elementary, middle and high schools all our lives. We had all the same extracurricular activities, and attended the same church. I didn't need to go looking for friends. I didn't need them. I had something better. A family. There were only two females in this group of fifteen to twenty. We bumped heads here and there like any other teenage girls did, but till this day she is still my heart. It was the "other girls". The other girls who wanted to date my "brothers". The girls that had crushes on them and saw me and my homegirl as a threat. Or girls who didn't understand why we chose to hang with the guys. So we became all kinds of names. Hoes. Sluts. Nasty bitches. Not because we actually were. We weren't, but because the words helped these chicks sleep better at night. It couldn't possibly be that he didn't like you because your breath smelled like hot garbage. Or he didn't like you because you had a super unlady like cussing issue. Or better yet he didn't even know you liked him. It was always because those two bitches must be fucking him. Really??? I think not. Had you maybe took a moment to befriend me or perhaps get to know me I would have thrown in a good word for you. Now all my "brothers" are either married or engaged to some great stand-up women. Women who accept and appreciate the friendships we share with them.
Scenario 3:
I remember being a fresh, happy Sunday school teaching twenty-one year old college junior. I was in love with a man thirteen years older than me. He had seven kids and five baby mamas. (LOL I know that was dumb on my part). I thought we were going to be together forever. So I made a point to get to know his children and family quite well. It was odd and more than I should have gotten into at that age, but I always made sure I showed the mothers of his children respect. Besides whether me and him made it together or not those chicks were gonna be around in some way shape or form forever. So I always said hello, smiled, asked how were they doing. All of them on a face to face level thought pretty highly of me....or so I thought. One day one of the chicks felt as if the conversation she was trying to have with my then boyfriend wasn't as important as the fact that he was currently on the phone with me. "You can get off the phone with that bitch and talk to me please?" Really? I'm a bitch. Hmmm. ok. I had a baby mama (different relationship) once tell my boyfriend that she thought she looked better than me. I dated a guy who refused to bring me around his son's mother because she was that crazy. She knew I existed. I could hear her on the phone one time saying, "When you gonna let me meet ya new girl so I can check this hoe". I snatched the phone and gave Ms. Indignant a piece of my mind. That night was our last date. I don't play that shit. Apparently these are the things that make them feel better about me riding there exes into oblivion every night. Especially when I'm nothing, but respectful to these women.
You can say that I'm exaggerating, but women are vicious creatures. Men don't try to throw a drink on a guy at the bar if he has on the same shirt as him. Men rarely (make that never) fight over women. Men don't give a flying fuck about any of that. Shit like that is such a small part of life and they are more likely to look at the bigger picture. Unless we are discussing bitch made niggas. Then it's a totally different situation. Women have an innate fear of people in better positions. I believe everyone is like this to a certain extent. Females however are more prone to showing this trait. Anytime they see someone doing good, or having something they want, that person (usually another woman) becomes the "ultimate threat". It is too much like right to say, " That's a nice car go head girl". Or "Look at you you've lost so much weight congrats" or ___________________ (fill in space with anything positive that you rarely hear women say to each other). It's a tad bit easier for hater blood to run through female veins. I don't know why. It just is.
Oprah and Gayle--lesbian lovers or NOT these two have done something phenomenal.
Maintained a friendship throughout the years.
The Flipside:
I don't think it's impossible for two females to have an honest upstanding good hearted relationship. As long as the two people involved are honest, upstanding, good-hearted women. That is the only way it will work. It's impossible if only one person is. I feel like the friends I have are the ones I have. I don't desire at this age to make any new ones. Respect however is something I give to every woman I meet. I just find it so odd how it kills a woman to give that back in return. I know this isn't the complete way of life, but it's what I've been seeing the most lately. However there are always a few positive people who don't get their just credit.
Scenario 1:
While sweating and panting on the stairmaster an older black woman with a neat little afro stopped and smiled at me. She tapped me to signal she wanted to say something. I hit pause on my ipod long enough for her to say, "Baby I see you in hear all the time". "Keep it up you'll be where you want to be real soon". I smiled and thanked her for the encouragement. Oddly enough she walked up and said that right behind the lace front duo. Maybe there is hope after all. Maybe. But I'm not holding my breath.