1. So R & B singer Lloyd told a magazine that the reason Chris Brown cried during his BET Michael Jackson tribute performance was because Lloyd told him to. Ummm come on Mr. Lloyd Polite

if it wasn't for mediocre R & B no one would know you. I can't even say I believe you simply because you're that unimportant. There's Lloyd Banks and then there's you.....Ol' Punk ass Lloyd.
2. So supposedly my booski, Trey Songz kissed a 15 year old girl at the summer jam concert. As of yet no charges have been filed. And if they are that's a damn shame!!! That was the highlight of lil' Ms. Brooklyn's life. Or he can come to Wisconsin and kiss me all damn day. Free of charges and harassment. Hell ask around ya girl is NOT hard to please.
3. Notice Mr. and Mrs. Carter and lil miss Rhianna were not in attendance at the BET Awards. Hmmm... that made me happier than seeing Mr. Chocolate Tyrese Gibson in that white outfit. smh. Mmm. Mmm. Mmm. That was like covering a Hershey Special Dark Bar in Marshmallow Fluff...soo soo sweet. Sorry let me regain my focus.
4. Remember when Dru Hill looked liked this?????


Hot huh???
Well WTF do they look like this now???:


Something about this pic is very...unsettling. First where is Woody? Second why is Nokio looking like an extra from Alice In Wonderland? And finally what's with Sisqo looking like a gay, hood butler?? Nevermind on the last question. That is to be expected when dealing with Sisqo LOL.
5. It's been reported that Fonsworth Bentley (made famous for holding Diddy's umbrella) is engaged to actress Faune Chambers (of White Girls and The Curious Case of Benjamin Button) Congrats!!! I'm happy for them for two reason!! 1) I love to see black love and 2)This maybe proves that he wasn't Diddy's boyfriend LOL
6. So Alicia Keys is pregnant??? Big Whoop!! And so is a third of the staff where I work. All that means is condoms aren't being used. The question is why was Alicia's dress so damn short at the BET awards? Did you want us to see your babies head? I mean dayum!!!
7. I can not and will not get on the Drake bandwagon if you're from Canada, played a character by the name of Jimmy on Degrassi High, and looked like this in high school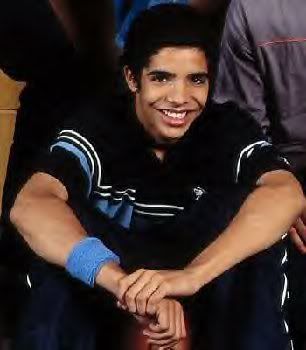 Ain't shyt on your album I wanna hear....call it haterism. I don't care. I'm not buying it!
8. Nicki Minaj can dress like Wilma Flinstone all dayum day. I'm still gonna love her. Don't ask why. I don't have an answer for that silly shyt! It just is what it is!